Anastasia Kim
Founder and Director of the «Mon Ami» Montessori Center | AMI diploma 2,5 – 6+
I graduated as a PR-specialist from the Far Eastern State Technical University in 2002. By educating my daughter with the Maria Montessori method, I saw how much it could give to a child: independence, organization, the ability to make a choice and take responsibility for it, curiosity for knowledge. What I literally wish is to give a chance to more children to grow up happily. Our center is an opportunity for kids to walk on this path, gain life skills and invaluable experiences.
Radmila Voronova
Montessori teacher | AMI Diploma 2.5 – 6+ | AMI course 6 – 12 student (Gerona, Spain)
I consider that the humanistic approach to the formation of the benevolent and constructive society is the only correct one. Such a society allows us to reveal all potential of a person in which each of us can be needed, useful, happy and has their place with the light of the sun.
Maria Montessori understood, described and scientifically substantiated the natural path of growing up. The method of scientific pedagogy of Maria Montessori allows every child to become a person of the world, to go to an adult society with a clear understanding of who he is and what he can give to this world.
"Mon Ami" Montessori Center follows exactly this scientific approach of Maria Montessori. You can feel the atmosphere of serving the child here: "Education is help for life!". "Mon Ami" graduates are the future of Russia!"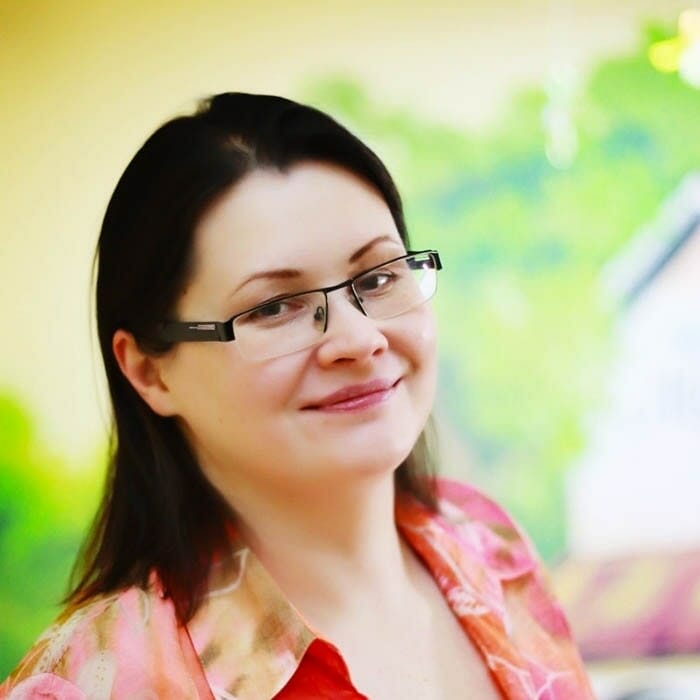 Natalia Deryabina
Montessori teacher | 0-3 AMI diploma
Higher pedagogical education: Herzen Russian State Pedagogical University, inclusive pedagogy faculty, 2001. Montessori education: International AMI course "Assistants of early childhood" (0-3), 2018. Experience as a Montessori teacher: 2 years. I met the Montessori pedagogy after the birth of my first daughter. At first, I became a Montessori mother, but I did not decide to change my profession. I liked working at school and was afraid that more than ten years of experience in traditional pedagogy would get in the way. Then a younger daughter was born, and I decided to become a child's assistant on the development path, but not a teacher-leader and initiator of education. Now, after all this transformation on the AMI course, I work as a Montessori teacher. I have a hobby (needlework), and now I'm using this skill for creating some new materials for the class and my girls, too. When you wish to help a child, you understand that you can't stop improving and educating yourself.
Ekaterina Solntseva
Montessori teacher 0-3 | AMI – diploma
Graduated from the "Psychology of Family Relations» department of the Russian State Pedagogical University. In September 2018, I completed studies at an international AMI course and took an AMI-diploma "Assistant to Early Childhood" for kids 0-3 years old.
Montessori pedagogy is very attractive because of its respectful attitude to the child's needs, choices and actions. In my opinion, it provides everything for children to grow up in harmony and love, to become mature and independent individuals.
Working with children is always interesting. They know how to be sincere, live by feeling the moment, help us, adults, to become better. Communication with children brings me much joy; I am happy to watch them grow and make discoveries every day. I am glad to help parents and children understand each other better.
Maria Bondarenko
Montessori teacher 0-3
Maria studied the department of journalism . After that, she was retrained as a preschool teacher. Later, she decided to take a certificate of the Montessori teacher.
Maria has been working in the Montessori system for over six years!
"I love the Montessori method very much because of the individual approach to each child, for preparing children for life, for the fact that children learn how to learn," says Maria. "I enjoy working with children, observing them and their communication. I am glad to see their successes".
Кристина Исхакова
Монтессори-педагог 3-6 | Психолог
Закончила СПбГУП в 2017 году, в 2020 году получила степень Магистра по направлению социальная психология. С 2015 года начала работать психологом и Монтессори-педагогом 3-6, с 2016 года работала в Монтессори саду по AMI системе, проводила семинары и консультации для родителей. Регулярное прохождение личной терапии, супервизии и курсов повышения квалификации.
«Моя работа для меня – это миссия, ведь наше будущее в наших руках. С любовью к детям и их родителям!»
Субботина Ольга
Монтессори-педагог 0-3 | AMI — диплом
Ассистент, Elementary 6-12 | AMI — диплом/AC
Окончила Московский Государственный Педагогический Университет в 2000 году, специальность – учитель русского языка и литературы.
В 2017 году прошла Международный курс АМИ 0-3.
В 2020 – Ассистентский курс АМИ 6-12.
У меня двое детей: сыну 18 лет, дочери 4 года. На собственном опыте я испытываю систему Монтессори и поражаюсь, до какой степени точен, эффективен и естественен этот метод. Я люблю систему Монтессори за то, что она основана на наблюдении за детьми, на истинных потребностях ребёнка, на особенностях становления его личности. Для меня нет интереснее работы, чем помощь детям в Монтессори-классе. А ещё я люблю делиться своими знаниями с родителями. Ведь наши дети – это те люди, которые будут менять наш мир, и в наших силах сделать так, чтобы они меняли его к лучшему.
Мои любимые занятия – чтение книг, вязание, прогулки по любимому Петербургу.
Моя любимая цитата: «Не волнуйтесь о том, что дети не слушают вас. Беспокойтесь о том, что они постоянно наблюдают за вами» Роберт Фульгум
Yana Finozhenkova
Assistant, Toddler Class 0-3
I graduated from the Psychology Faculty of St. Petersburg State University. I worked in an orphanage school for children with developmental disabilities, did some individual psychological work with children with special needs. The pedagogy of Maria Montessori is close to me for its education methods that help to improve the potential of kids.
I love children, and it's a great pleasure for me to see them happy!
Kristina Okhotnikova
Administrator
I graduated from the Bashkir State Pedagogical University as a choreographic artist in 2013. Since then, I have worked with children of all ages., I studied at the St. Petersburg School of Yoga and received a diploma as a children's yoga educator in 2017. Also, I have experience in administration and bring all my knowledge into the «Mon Ami» Montessori Center.
I like to communicate with children and to create a cozy atmosphere, so working here as an administrator is just for me! I love children for their spontaneity and rich imagination.